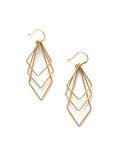 Beautifully crafted Fair Trade Earrings feature the work of artisan partners from four continents and support brilliant women from around the world. Their stunning designs are created with a variety of traditional techniques and recycled materials for minimal environmental impact. With every purchase, these artisans receive 2-4x minimum wage, health care, and educational scholarships. Wear them and feel good knowing your puchase has made a difference!
MATERIALS:
Prominent Paragon (made in Mexico) - brass earrings that are nickel-free. 2.5"
Faux Hoops (made in India) - silver-plated nickel-free metal. 1.25"
Crystal Water Studs (made in India) - faceted semi-precious garnet stone and recycled nickel-free brass. .5cm
Cosmic Drop (made in India) - brass-plated recycled metal. 2" long, pendant measures 0.75"
Pairs well with: Fair Trade Necklaces.
BRAND: Fair Anita is located in Minneapolis, MN and works with 8,000 talented artisans around the world, striving to build a more inclusive economy for women.
PACKAGING: Earrings are on a recyclable cardboard plaque.