OUR MISSION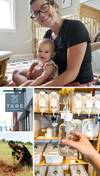 WE ARE PROUDLY:
WOMAN OWNED AND OPERATED. Amber started Tare Market in August of 2019, after learning that only 9% of plastics were getting recycled. She wanted to make a change and help others do the same. This business is close to Amber's heart, and she works with a wonderful team to make Tare Market run smoothly and effectively. Amber is a Mom to her daughter Bailey and chocolate lab, Toby.

SUPPORTING OUR COMMUNITY. We are committed to supporting BIPOC makers in the sustainability space by purchasing their products and financially supporting their businesses. We are dedicated to expanding our product selection to include more products made by and for our BIPOC community members.

PLASTIC FREE. We are committed to bringing you the best zero waste or low waste items out on the market, totally plastic-free. We believe that individual actions make a huge impact, and that if every person makes just one plastic-free swap, we can make a huge environmental impact for future generations to come.

COMMITTED TO REFORESTATION. For every product sold online, we work with Ecologi to plant a tree in an area of the world devastated by deforestation. Each time you shop with us, you help to bring back the integrity of a degraded ecosystem. One of the best tools to tackle the climate crisis and keep our temperatures from rising above 1.5C is to plant trees. As of December 2021 we have planted 4,097 trees!

CLOSED LOOP. 1. We encourage your to bring your own containers from home to refill. You can literally bring anything you already have (a plastic Ziploc, a mason jar, etc.) and we will show you how to tare your container so you only pay for what's inside. 2. We work with vendors to develop a system where we send their containers back to them for refill. Many of our cleaning products vendors (Meliora, Common Goods, Fillaree) are 100% invested in creating a closed loop system. Lots of our containers are reused MANY times.
}
Your cart
You're away from free shipping!
*Excludes curbside and local delivery orders.
You qualify for FREE SHIPPING! *Excludes curbside and local delivery orders.

Subtotal:

Delivery method & taxes calculated at checkout

View Cart